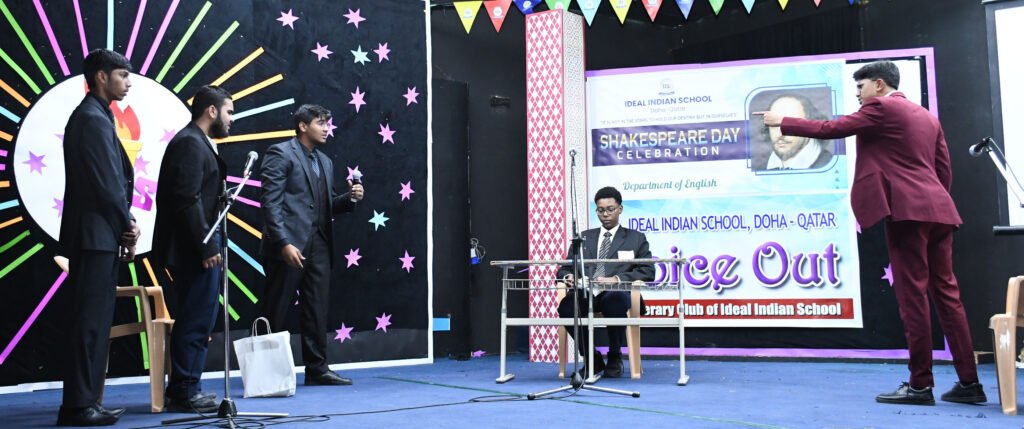 IIS LAUNCHES VOICE OUT LITERARY CLUB WITH A SHAKESPEARE DAY CELEBRATION: The English Department of Ideal Indian School proudly introduced the 'Voice Out' English Literary Club and commemorated Shakespeare Day with great enthusiasm. In a recently organised function, Mr. Shaik Shamim Saheb, the school principal, inaugurated the club's activities, marking a significant milestone for the students.
The Principal presented the badges to the office bearers of Voice Out 2023-2024. Fatima Rahees from class XI has been selected as the President, and Afreen Salma from class X is the Secretary from the Girls' Section. Luqman Ameen from class XI has also been chosen as the President, while Stephin V. Samson from class IX serves as the Secretary from the Boys' Section.
In his speech, the Principal urged the students to actively engage in literary competitions, emphasizing the importance of showcasing their creative talents. He instilled a sense of confidence and inspiration, empowering them to embrace the transformative power of literature and make their mark in the realm of artistic
It was followed by the presentation of spectacular cultural programs. Mohammed Ashaz from class 7 recited a poem, and Amna Hafiz from class XII delivered a motivational speech. The students of class XI from the Girls' Section presented a dance on the importance of reading.
Ms. Bindu Babu, coordinator of the English Literary Club for 2022-23, presented a brief report of the events conducted during the academic year 2022-23. The program was followed by a prize distribution ceremony where the students received certificates for various literary activities conducted during the academic year 2022-23. Ahmed Mohammed Faisal, the Head Boy, proposed the vote of thanks.
The event included a celebration of Shakespeare Day, featuring an Inter-House Drama competition where students showcased their talent through famous plays like Julius Caesar, Macbeth, and As You Like It etc. The young artists impressed the audience with their articulation, memory skills, and acting abilities. Yellow House secured first place in the Boys' Section, while Blue House secured second place. In the Girls' Section, Blue House claimed first place, with Green House in second. Dafydd Reagan received the Best Actor award, while Hishana Manoj was honored as Best Actress.
The event was judged by Ms. Shirley D'sales, Headmistress of the KG Section and Ms. Shyla Jose, Assistant Headmistress of the Junior Section. The Judges appreciated the enthusiastic participation of the students and also extended their gratitude to the teachers for motivating the students to take part in the contest.