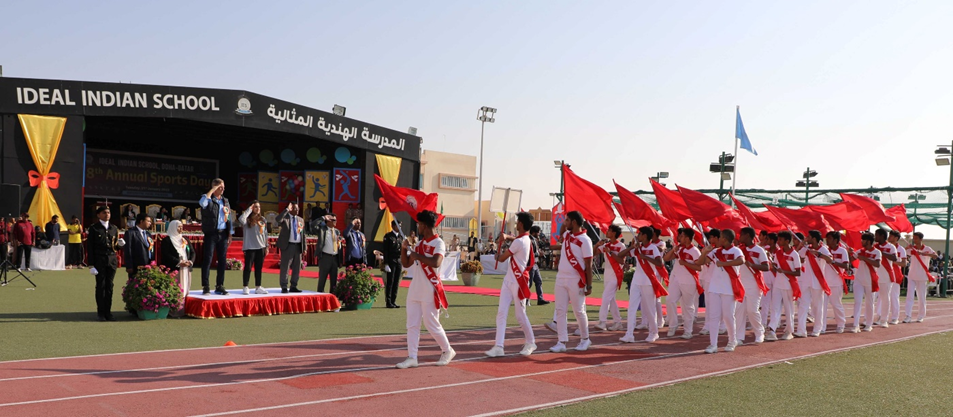 The 38th Annual Sports Meet of Ideal Indian School concluded recently with great fanfare and a fascinating performance by 1200 students. Earlier, some 3000 students took part in the preliminary heats of various track and field events under sub-junior, junior, senior and super senior categories.
In the grand finale Chief Guest Ms. Nada Mohammed Wafa, Olympian, Head of Qatar Olympic Solidarity Unit and Secretary General of Athletes Commission declared the meet open after taking salutes of the marching athletes and hoisting the school flag. Mr. Wouley De Bie Oly, Olympian & Technical Director of Water Polo & Venues and Competition Manager, Qatar Olympic Committee was the Guest of Honour. They were presented a guard of honour by the four Houses of the school. The ceremony was attended by Mr. Shaik Shamim Saheb and the Heads of all Sections.
Opening the sports meet of the school Chief Guest Ms. Nada Mohammed Wafa expressed happiness and joy at her presence in the school sports meet and wished all the success for the sports activities of the school. Mr. Wouley De Bie Oly congratulated IIS for hosting an exciting sporting event. Principal Mr. Shaik Shamim Saheb presented Annual Sports Report.
A colourful display of Mass Drill by the Junior Section, a Yoga display by the students of the Girls' Section and a Martial Arts display by the Boys' Sections enthralled the spectators with their mesmerising uniformity and cohesion. Students performed remarkably well and brought laurels in the national and international sports meets were honoured during the occasion.
House contingents of boys were led by Head Boy Ibrahim Ahmad and Asst. Head Boy Ahmed Mohd. Faisal. While Hanin Shamsheer, the Head Girl and Mary Stenicka the Asst. Head Girl led the girls' contingents. Aseel Mohamedosman, Sports Secretary, Girls' Section welcomed the gathering while Fahad Abdullah Sports Secretary of the Boys' Section proposed vote of thanks. Towards the end of the day, girls marched past with their house flags. The Head Girl and the four House Captains of the Girls' Sections brought the school flag down and reverently handed the same to the Guest of Honour Mr. Wouley De Bie Oly,who finally declared the Meet closed. Mr. Azam Khan, Vice Principal of the Junior Section and Mr. Nowfal V.M , Head of Physical Education coordinated the programme. Mrs. Lipsy Sabu and Mr. Anwar Sadath compered the Programme.